18:e Oktober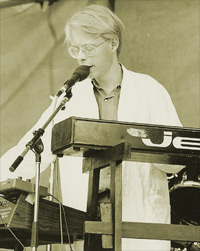 18:e Oktober from Motala, Sweden was mainly a one man band playing experimental yet melodic electronic music between 1984 and 1988. Although there were some brief collaborations 18:e Oktober was mainly a one man band. The one man being Tor.S (sic!). During these years a handful of cassettes were released, some gigs took place and 18:e Oktober also contributed to a couple of compilation cassettes at the time. In 1988 the project went into sleep mode and Tor.S started up two new electronic acts. Short lived space nursery crazies Rymdkapsel Crash, and Lorelei de Lux a more long lasting electronic pop project with female vocals. Currently what was once 18:e oktober is now one half of the instrumental electro-duo The Quiet Men focusing on improvised concerts in modern old skol style.
In 1994 the cassette En Sammanfattning (a summary) was released gathering new mixes of the most popular songs from the original cassettes. Released in an extremely small quantity it's a hard to get item these days.
In the 21st century 18:e Oktober was approached by Börft Records wanting to re-release all the original cassettes. Sonically enhanced versions were prepared, the original artwork was restored and released in 2004. In the wake of this re-release an album collecting unreleased material – Kulturvetarnas Kongress – was also released 2007 on Börft sublabel Djuring Phonogram. This album is sold out.
Currently yet a collection of unreleased material in combination with the most poular songs is in preparation for release in 2013 on Börft/Djuring Phonogram.
More information on 18:e Oktober can be found on Discogs and in the newly released book Den svenska synthen (only in Swedish unfortunately) by Bengt Rahm.
Cassette albums:
Likström (1985)
Zeb (1985)
Hybris (1985, bonuskassett till Zeb)
En sista dos (1987)
En sammanfattning (1994)
Contributions to compilations:
Sånger på 90 minuter "Songs to remember vol. 1" (Morning Moon/Pack production 1985?) |

Kricket i luren, Isländskt vatten

Orgelvärk (Neuköln 1986 - NK010) |

Hector Lökfrisk

Music for great events (Lekrummet 1987) |

Planerad terror

Sesiraa (NNY Recordings 1987) |

Roulette

Hanging around vol 002. (Hanging Around 1987?) |

Gaskriget

Döda talar inte (Omnium Gatherum 1988 - OG004)|

SJ:s godsterminal
---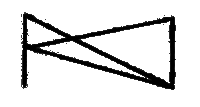 Neuköln Recordings
Neuköln Recordings (originally named Neuköln Records) released electronic cassette albums in Motala, Sweden in the middle of the eighties. The genres covered the whole range from the industrial madness of Lax, experimental electronica of 18:e Oktober to the sobre synth pop of Glenn Winter. In 1986 Neuköln released a compilation of contemporary underground synth music of Sweden called Orgelvärk, starring amongs others Overlords, Ausgang Verboten and Moulin Rouge. This cassette became the most known release from Neuköln and was re-released on vinyl in 2011 on New York based label Minimal Wave.
Releasing on cassette was the way to go for a small electronic music label in the eighties. By the dawn of the nineties it was absolutely obsolete, cassettes were impossible to sell and Neuköln went into oblivion. Although, owing to the new born interest in Neuköln, there has been a few digital Neuköln releases labeled Neuköln Audio Data lately. None of which are officially online today.
The complete Neuköln catalogue was re-released on cassette by Börft Records in 2004. It's now sold out.
Neuköln catalogue:
NK001 The Outsider (bootleg) (1983) [*]
NK002 Neuköln Studio: Tascam Portaone 4 track recorder [**]
NK003 18:e Oktober - Likström (1985)
NK004 18:e Oktober - Zeb (1985)
NK004b 18:e Oktober - Hybris (1985)
NK005 Lax - Fasa & terror (1985)
NK006 Ann Summer - Baby Doll-playsuit (1985)
NK007 18:e Oktober - Har tomtar på loftet (1985) [**]
NK008 Birth Control - Lobotomi (1986)
NK009 Birth Control - Dio (1986)
NK010 Orgelvärk (samlingskassett) (1986)
NK011 Glenn Winter - Bruna hundars död (1986)
NK012 Glenn Winter - Herrens svar (1986)
NK013 Unlucky number [**]
NK014 Marek Anzelm Zukrowsky - Tät a tät (1986)
NK015 18:e Oktober - En sista dos (1987)
NK016 Fully Equipped for combat! (1988)
[*] This strange bootleg mixed some apart live tracks of big acts like Depeche Mode, Duran Duran and others with a couple of extremely primitive electronic tracks recorded before 18:e Oktober using the artist name "Equisum". Not considered a proper release on Neuköln.
[**] These items where not available for purchase. NK007 was distributed as a Christmas gift among friends.