INFORMATION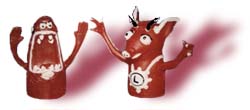 Lorelei de Lux was a Swedish pop-duo with lyrics in Swedish. The sound was based on synthesizers so you migh call it a synth group.
Lorelei de Lux released one album and two singles on the Swedish label Nangijala Records. The group has also contributed to a couple of Swedish compilations with electronic music.
---
MEMBERS
Therése Nordholm - Vocals.
Christina Morén - Vocals (2005).
Tor Sigvardson - Electronics and voice.
---
RECORDS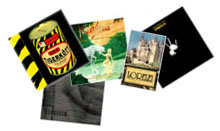 Lorelei [1993] - cassette
Tigerkött [1999] - cd album
Blick [2000] - 4-track cd single
Lorelei de Lux has also contributed to various compilations. See the Swedish section for more details. More sound examples can be found in the sounds section.

---
TO BUY OUR RECORDS
There are no official distributors of our music anymore. Please contact us for further information, we have some records of our own for sale still.
---
CONTACT